History of faults dates back millions of years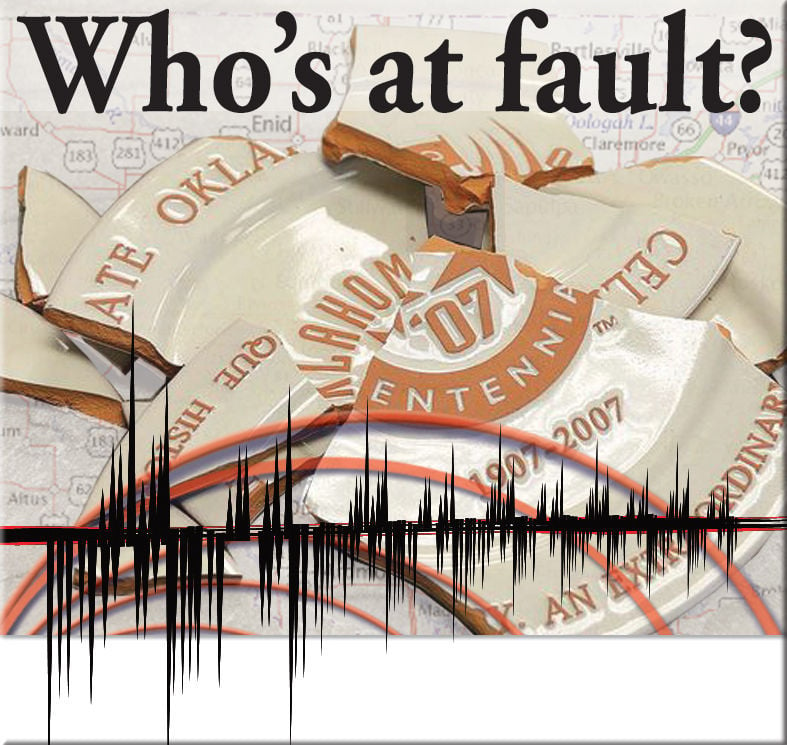 ENID, Okla. — A preliminary fault map of Oklahoma, produced by Oklahoma Geological Survey in April, shows numerous faults across the state.
Oklahoma faults — unlike those in California, which is on a tectonic plate boundary — are among the mid-continent faults that are in old rock and have been inactive for millions of years, U.S. Geological Survey geophysicist George Choy said.
Since the Pennsylvanian and Permian periods, there has been little tectonic activity in Oklahoma, according to Oklahoma Historical Society. The Meers Fault, in southwestern Oklahoma, is the lone exception.
MORE STORIES
Who's at fault? Scientists seek answers, as quakes increase
Do weather conditions impact quakes?
When it comes to earthquakes, only Alaska surpasses Okla.
Precambrian rocks — the oldest rocks in Oklahoma — and Cambrian rocks are the foundation of the state. Serving as the "floor or basement," newer rocks rest on this foundation, according to a "Geologic History of Oklahoma" by Oklahoma Geological Survey.
Some of these basement rocks uplifted to form two "major fault blocks and are exposed in the Wichita and Arbuckle Mountains," the OGS document states.
According to the document, there was "crustal unrest" in the state during the Pennsylvanian Period — which occurred more than 200 million years ago.
"A broad, north-trending arch rose above sea level across central Oklahoma during this time; along its axis, a narrow belt of fault-block mountains, the Nemaha Uplift, extended north from Oklahoma City into Kansas," the document states.
According to Oklahoma Energy Resources Board, most Oklahoma earthquakes have been centered "on, or near, the Nemaha Ridge and the Ouachita-Arbuckle-Wichita mountain front."
According to a USGS history on earthquakes in Oklahoma, the first known earthquake to be recorded in the state was in September 1918. Objects were "thrown" from shelves in El Reno.
The state's largest earthquake, registering magnitude 5.6, was recorded at Prague on Nov. 6, 2011.
Having trouble loading the map? Try this link.