TRAVEL: Where America's homesteaders are honored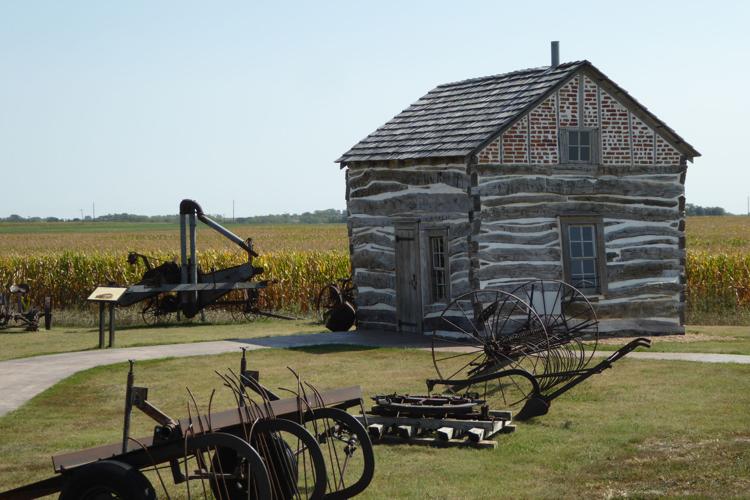 During a September journey following the Oregon Trail, we made a slight detour in southeast Nebraska to visit Homestead National Monument of America. We had toured this unit of the National Park Service on two previous occasions. Each visit was educational and the national monument wasn't far off the path of our drive from Topeka, Kansas, to Kearney, Nebraska.
The monument commemorates and interprets the Homestead Act of 1862, legislation that offered free land to homesteaders. Overall, the act resulted in transferring 270 million acres – 10 percent of the country's area – from the public domain to private citizens. The act was repealed in 1976, with an exception for homesteading in Alaska that terminated a decade later.
Offering free land to individuals and organizations was not new, for the government had been giving away land since the late 1700s. Land had been given for public schools and to military veterans, but many citizens opposed offering land to settlers -- especially Southerners, who worried about its impact on the region's plantation-based economy. It wasn't until Southern states seceded that President Abraham Lincoln signed the Homestead Act.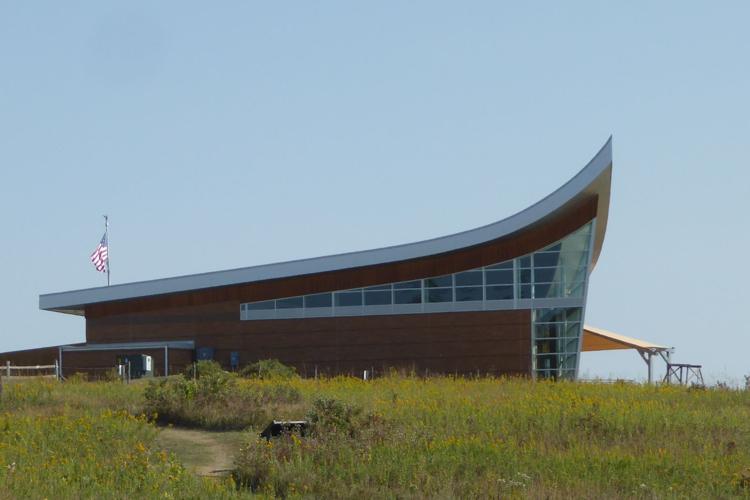 Successful land claims increased steadily from the 1870s until the second decade of the 1900s, when they peaked at 439,710. More than 42 million acres were transferred to homesteaders during the five years beginning in 1911, a number that decreased to 238,000 acres during the five years ending in 1960.
Thirty states were included in the homestead movement. Several, such as Indiana and Nevada, had a small amount of land claimed and settled by homesteaders, while others, including Montana and Nebraska, were to a large extent populated by homesteaders.
Thus, Nebraska seemed an excellent location for a national monument to commemorate and interpret the act. If Nebraska is the appropriate state, the monument's current location is fitting since it is on the claim of Daniel Freeman, who in 1863 filed one of the first claims made under the act.
The park's centerpiece is the futuristic prow-shaped Heritage Center that serves as the monument's visitor center. The entrance is bordered on one side by a wall with outlines of states in which homesteads were granted. A wall of windows offers views of a restored tall grass prairie similar to that experienced by homesteaders.
Self-guided tours of the center begin with a 20-minute audiovisual presentation highlighting the manner in which a wide range of people, including immigrants and Native Americans, were impacted by passage of the Homestead Act. Numerous educational exhibits offer insight on the people, the equipment, and the living conditions associated with homesteading. One particularly interesting video describes how a 29-year-old Vietnam veteran in 1974 became the last person to file a homestead claim.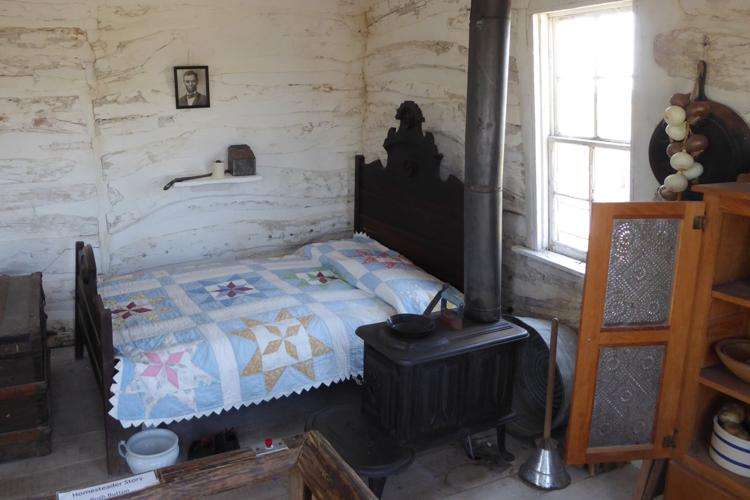 A small homestead cabin outside the visitor center was moved here from a nearby location. A view inside the cabin illustrates the crowded living conditions for families attempting to make a life from their 160-acre plot of land.
A separate Education Center houses antique farm implements, special exhibits including paintings, and is the site of programs and presentations organized by the National Park Service. During our September visit, we enjoyed talking with members of the monument's friends' organization. The group was engaged in hand quilting as part of their effort to raise money for the monument's educational programs.
NPS offers a variety of programs throughout the year. A Tallgrass Prairie Fiddle Festival is scheduled in May, and the monument's Homestead Days take place during mid-June. The most unique program is a community garden in which local residents can apply for a free 10' x 15' plot to grow their own vegetables. It's not as permanent a claim as Daniel Freeman's 160-acre homestead, but it sounds like a great government program.