Several years ago we had an opportunity to visit Luckenbach, Texas, a small spot best known to locals and fans of country music.  Luckenbach gained widespread fame in 1977 when a song of the same name sung by Waylon Jennings and Willie Nelson hit the charts. During the chilly evening, we enjoyed local musicians pickin' guitars while visitors knocked back Lone Star longnecks inside the saloon. It was an evening well spent during our 2013 tour of the Hill Country.
We recently returned to Luckenbach on a sunny Sunday afternoon when a country band was playing outdoors to a considerably larger crowd. Bratwurst was the food of choice with those in attendance still knocking back Lone Star longnecks.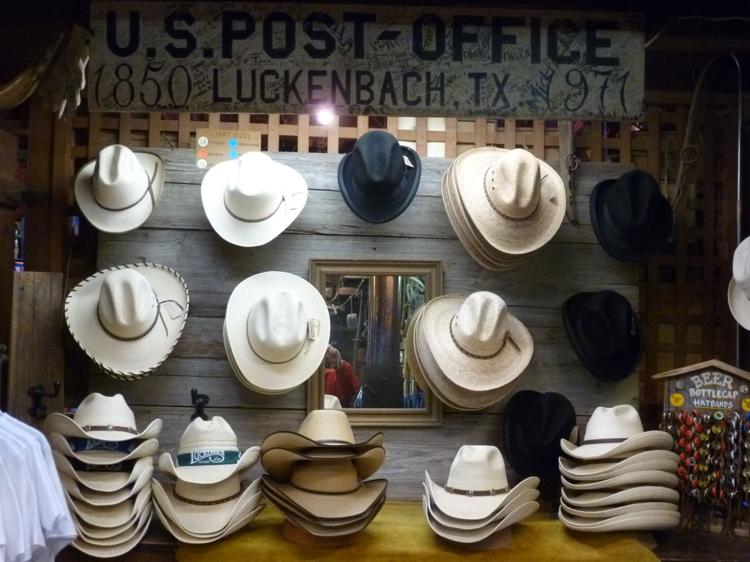 Although no one any longer lives in Luckenbach (even though a sign on one of the buildings declares "population 3"), this one-time trading post remains a magnet for locals and visitors in search of country music, dancing, cold beer and a good time. 
 Luckenbach isn't really a town, but rather a venue.  First-time visitors are likely to feel they are viewing some kind of apparition – perhaps placed on earth by aliens from space in search of beer-guzzling human captives.  Glance inside the saloon and you might expect Paul Newman dressed in character as Judge Roy Bean holding court and preparing to dispense justice west of the Pecos.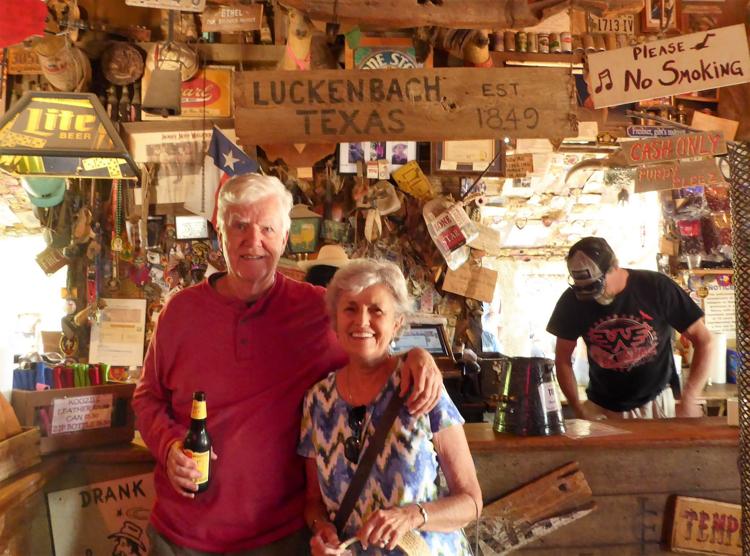 Luckenbach is located near the town of Fredericksburg in a region of Texas called "The Hill Country," that was settled in the mid-1800s by German immigrants.   The community remained in the same family from its founding in 1849 until 1970 when it was sold a trio of Texans, one of whom proclaimed himself mayor. 
The settlement was never really much of a town, although at one time it included a post office, school, community hall, general store, blacksmith shop and steam-powered cotton gin.  Most of these are now gone.  The school closed in 1964 and the old cotton gin and blacksmith shop were destroyed in a flood in 2002.  The post office closed in 1970 when Beeno Engel, a descendant of Luckenbach's founders, retired as postmaster.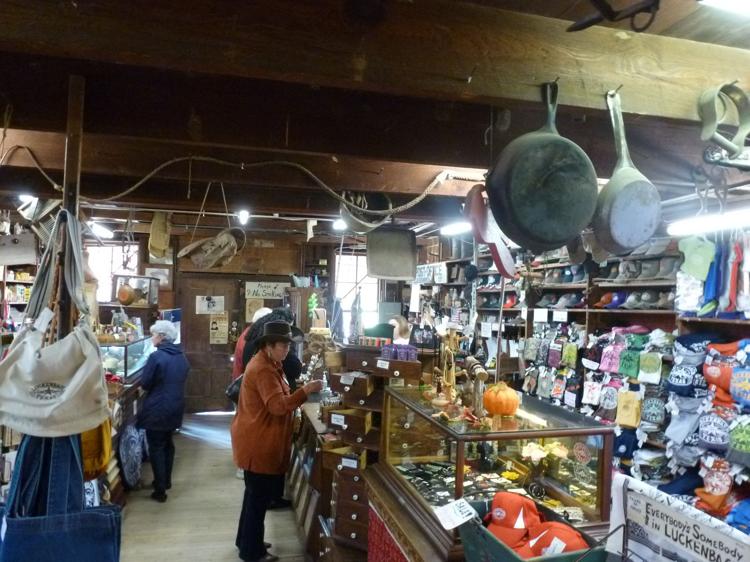 Activity at Luckenbach picked up in the early 1970s when singer and songwriter Jerry Jeff Walker and the Lost Gonzo Band utilized the dance hall to record the album "Viva Terlingua."  Four years later, the place really lit up when Bobby Emmons and Chips Moman penned the hamlet's namesake song about an upscale couple with a four-car garage ("and still building on") experiencing marital problems.  The song, recorded by Waylon Jennings and Willie Nelson, reached No. 1 on Billboard's Hot Country Singles and No. 25 on Billboard's Hot 100.
Luckenbach today is a venue for country music, dancing and beer, although not necessarily in this order.  Although much of the original community is no more, the really important components – the general store, saloon, and dance hall - remain.   Luckenbach memorabilia, including stacks of T-shirts, sweats, key chains and bumper stickers, are offered for sale in the general store.  However, it's the music and atmosphere that attracts the faithful. 
Step into the saloon and you might expect to find Waylon and Willie sitting around a circle picking guitars and singing along with the boys.  Although Waylon passed away in 2002 and Willie hasn't visited for some time, their spirit lives on in this remote outpost that epitomizes a simpler time in America.  Paraphrasing Waylon and Willie's singing, maybe it's time to sell your diamond ring and buy some boots and faded jeans, and go away to Luckenbach where there ain't nobody feelin' no pain.
David and Kay Scott are authors of "Complete Guide to the National Park Lodges" (Globe Pequot). Visit them at www.valdosta.edu/~dlscott/Scott