In an era of social media scuttlebutt and fake news flashes, it's difficult to believe two American news wire services, Associated Press and United Press International, once competed ferociously to not only get the news first but to first get it right.
That's what makes Bill Sanderson's recently-published book, Bulletins from Dallas, recommended reading for President Donald Trump, who questions the honesty of the mainstream media, and Silicon Valley titans, whose websites distribute fake news.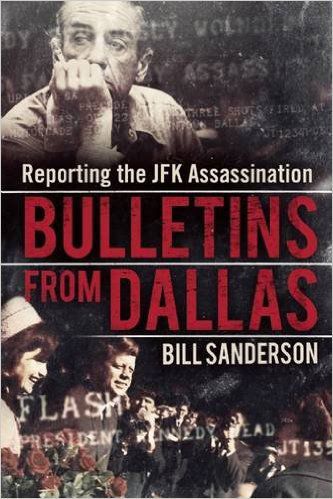 They'll learn what reporting real news is all about.
Sanderson describes the mental, physical and emotional challenges journalists go through covering a big breaking story, especially one so tragic as the assassination of President John F. Kennedy in Dallas more than a half-century ago. 
 UPI White House Correspondent Merriman Smith, in the front seat of what was called "the wire service car" in the presidential motorcade, took a physical beating from his competitor, AP reporter Jack Bell, as Smith dictated details from the car's radio phone to UPI's Dallas bureau once gun shots rang out at 12:30 p.m. (CST) Nov. 22, 1963.
 Bell, in the back seat, objected to Smith hogging the phone, punching him numerous times to get it back.  But Smith held on to the phone and a story about the gunfire crossed UPI's wire before their car arrived at Parkland Hospital, where Kennedy died.  There's speculation Smith knocked the car's phone out of order when he finally got off of it so UPI could maintain its minute-by-minute advantage in reporting the assassination.
 Nearly an hour before the White House announced Kennedy's death, UPI did something out of the ordinary: quoting a Secret Service agent – the famous Clint Hill (who served five presidents) – that Kennedy was dead when he arrived at the hospital.  UPI officially announced Kennedy's death, based on a statement by White House Deputy Press Secretary Malcolm Kilduff, at 1:35 p.m. (CST). The AP followed two minutes later.
In the arena of wire service journalism, where every second mattered, that was similar to winning the Super Bowl of breaking news stories. 
 UPI and AP clients, at the time, included hundreds of newspapers, television outlets and radio stations around the world.  They demanded accurate and fast reporting.  If they took both wire services, they compared their stories for accuracy, speed, clarity and even  writing style.
On that fateful day, most Americans didn't realize what Smith, Bell and other journalists were enduring to provide an accurate account of Kennedy's death.  Instead, they saw the news delivered calmly in New York by the man considered the nation's most trusted news source, CBS News Anchor Walter Cronkite, who once worked as a war correspondent for UPI's predecessor, The United Press.
Cronkite was ahead of his television competitors about what was happening in Dallas and is often credited as the first source to break the news.  But he feared reporting Kennedy's death until it was confirmed by the White House, knowing an erroneous report of such magnitude could ruin if not end his career.
 Smith, or "Smitty" to colleagues and friends, confidently reported the sad news first in a scoop read in newsrooms around the world as bulletins on clacking teletypes.
Sanderson, a former New York Post editor, traces Smith's life from his youth in Georgia through covering six presidents -- Franklin Roosevelt to Richard Nixon.  He was a media star of the times, writing for leading magazines and appearing on television's "The Tonight Show."  Smith was also a Washington insider, perhaps too friendly with the presidents he covered, especially Lyndon Johnson, Sanderson writes.
Coverage of President Kennedy's assassination won the Pulitzer Prize for Smith but his life ended in tragedy in 1970 with a self-inflicted pistol shot. 
Smith is buried at Arlington National Cemetery.  It's a fitting tribute.  He stood for everything journalism holds near and dear – being where events happen and getting the story right – and lays with America's heroes, including his son, Albert, killed in 1966 while serving in the Army in Vietnam.
Doug Page is a freelance writer from Boston who worked for UPI in the 1980s. He is the co-author of "Plural Marriage for Our Times: A Reinvented Option?"